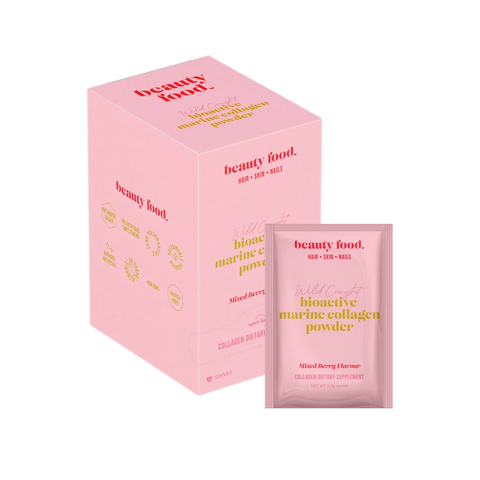 Wild Caught Marine Collagen Powder
By Beauty Food
"Love the taste! Definitely recommend."
- Dani
Beauty Food is our sister brand, available here for those who'd like to combine orders and save on shipping!
Give your body the raw materials it needs for optimum skin health. This anti-aging beauty supplement contains the very best, sustainably sourced Wild Caught Bioactive Marine Collagen. With a very low molecular weight of just 2 kilodaltons (kDa), it's highly absorbable. 
Each serve is $2.17 when buying a tub, $2.85 in sachets.
How it's different
The unique formula includes:
Hyaluronic Acid, nature's moisturiser
Zinc, stimulates the immune and antioxidant defences against ageing, and helps prevent UV damage
Silica, used for skin rejuvenation
Vitamin C, increases the effectiveness of collagen supplementation
How to use it
Simply add a single serve to a glass of cool water and stir for a delicious and refreshing protein water. Or, add it to your smoothies as a protein source and blend. Being heat stable you can also add it to tea or coffee, in fact it makes a delicious berry tea if you add it to hot water by itself!
We don't recommend adding it to fruit juice as juice is very high in sugar but without the fibre which means it'll spike your blood sugar and have a negative impact on your skin health. You're far better off eating the whole fruit.
The sachets come as a single serve, and the tubs come without a spoon to save on plastic so simply add 1 heaped teaspoon (5g).
We recommend at least 5000mg (5g) of collagen, up to 15,000mg (15g) per day. You may consume more than 15,000mg per day, but the studies do not show an additional benefit.
What's in the box?
Your choice of 14 x Sachets (14 serves) or 1 x Tub (30 serves) of wild caught marine collagen
Nutrition Information
Energy, 77 kJ / 16 Cal
Protein, 4.1g
Gluten, Nil detected
Fat, 0.0g
- - Saturated Fat, 0.0g
Carbohydrate, 0.4g
- - Sugars, 0.1g
Sodium, 9mg
Vitamin C, 40mg (100% RDI)
Zinc, 10mg (85% RDI)
Ingredients: Wild Caught Bioactive Marine Collagen Peptides (fish) (86%), natural flavouring, antioxidant berries blend (pomegranate, raspberry, strawberry, elderberry, blackcurrant, blueberry, cranberry, acai, goji berry), Zinc Gluconate, Hyaluronic Acid, Vitamin C (ascorbic acid, acerola powder), Silica, natural colour (beetroot juice), natural sweetener (thaumatin).

Contains fish: Packed in a facility which may contain traces of milk, soy, almond, hazelnut, sesame and egg.
"Can see the improvement in my skin and hair. Love the taste!"
A delicious fresh berry taste
The taste and goodness of pomegranate, raspberry, strawberry, elderberry, blackcurrant, blueberry, cranberry, acai, and goji berry.
From hydrolysed Wild Caught Marine Collagen Peptides.

Next to no sugar and lightly sweetened with thaumatin, a natural sweetener that doesn't spike insulin.

Gluten free, non-allergenic, and no shellfish. Safe, clean label.

No artificial thickeners, fillers, sweeteners or sugar alcohols. 

Collagen is scientifically proven to replenish our bodies' own collagen for firmer, more elastic and younger looking skin.

Studies show hydrolysed collagen decreases joint pain after exercise and increases the density of cartilage, making joints more flexible.

Collagen contains large amounts of the amino acids glycine, glutamine and proline which can be beneficial to the intestinal tract and stomach.

Add this to water, tea, coffee, smoothies, etc for additional protein to help stop you craving more food.
Why Collagen Protein?
Collagen is an odourless, tasteless, dairy free protein source. This collagen is wild caught and sustainably sourced marine collagen, clinically proven and specifically formulated for firmer, more elastic and younger looking skin (less wrinkles and fine lines).
Skin Health Benefits of Collagen Peptides
Age and hormone-related decline in collagen production affects the connective tissue under the skin. As the tissue becomes weaker and less elastic, the fat protrudes into the skin layer and makes it look lumpy. Regular collagen supplementation may help to maintain the connective tissue strong, elastic and hydrated thus preventing development of cellulite.

In a study from 2015, 105 women aged 24-50 years with moderate cellulite were randomized to orally receive a daily dosage of 2.5 g bioactive collagen peptides (BCP) or a placebo over 6 months. BCP treatment led to a statistically significant decrease in the degree of cellulite and reduced skin waviness on thighs (P < 0.05) in normal weight women. Moreover, dermal density was significantly improved (P < 0.05) compared to placebo.

Several trials demonstrated that collagen peptides lead to an increase of elasticity, probably by increasing dermal matrix macromolecule biosynthesis or synthesis of procollagen type I and elastin, which is the possible mechanism of preventing development of cellulite.
Skin Health Benefits of Hyaluronic Acid
Hyaluronic acid (HA) is a high-molecular-weight polysaccharide composed of repeated polymeric disaccharides of d-glucuronic acid and N-acetyl-d-glucosamine.6 It is one of the main components of the extracellular matrix of the skin and plays a crucial role in the metabolism of the dermis. It is one of the most hydrophilic molecules in nature and can be described as nature's moisturizer.

With aging, the epidermal HA content declines from 0.03% in women aged 19 to 47 years down to 0.015% in women aged 60 years and halves to 0.007% in women aged 70 years. In senile skin, HA is still present in the dermis, while HA of the epidermis has disappeared entirely.6 Furthermore, HA polymers in aging skin have a reduced ability to take on water of hydration resulting in diminished skin moisture, commonly seen in aging skin.

Above 50% of the total body content of HA is present in the skin.8 It plays a major role in maintaining extracellular spaces, conserving tissue hydration, and facilitating the transport of ion solutes and nutrients to cells in the upper layer of the skin because of its water-retaining capacity.8 HA can bind up to 6000 times their volume in water, thus controlling tissue hydration. Moreover, it protects fibroblasts against cell damage mediated by hydroxyl radicals, which play a key role in skin aging.

Free radicals play a major role in skin aging as they directly act on cytokine and growth factor receptors in dermal cells and keratinocytes and cause chronic inflammation. HA counteracts aging processes by its anti-inflammatory and radical scavenging properties.

A study from 2017 used HA with a molecular weight of ≥1 MDa, designed for nutritional use, diluted in in a cascade-fermented organic whole food concentrate supplemented with biotin, vitamin C, copper, zinc, and natural silica.8 All parameters (skin hydration, elasticity, skin roughness, wrinkle depth) were assessed at baseline, after 20 and after 40 days.8 The results included statistically significant increase in skin hydration and elasticity. Additionally, a significant decrease in skin roughness and wrinkle depth could be exhibited.

A pilot study on effects of a supplement containing collagen and HA in 2017 revealed a statistically significant improvement in skin elasticity (12% increase, p =.0136) and a tendency to reduce skin pigmentation (5% decrease).

Another study from 2017 found significantly diminished wrinkles after just 8 weeks of supplementing with 120mg of HA and significantly improved skin lustre and suppleness after 12 weeks.

Several studies on female subjects demonstrated significant increase in skin moisture after 4-6 weeks of supplementing with 37.52- 120mg HA.10 They concluded that because consuming HA improves the skin's moisture content, HA can improve the texture and reduce wrinkles in the skin.


Skin Health Benefits of Silica
Silicon is the second most abundant element on Earth, and the third most abundant trace element in human body. It can be found in water, plant and animal sources. Orthosilicic acid (OSA) is the form predominantly absorbed by humans and is found in various tissues including bone, tendons, aorta, liver and kidney. Plausible data suggest that silica is essential for health although no RDI has been established. Deficiency induces, for example decline in collagen synthesis and in cartilage health.

Silicon plays an important role in dermal structure by stimulating collagen synthesis and by activating hydroxylating enzymes, thus improving skin strength and elasticity. Therefore, the supplementation of silicon in a highly bioavailable form can be used for skin rejuvenation. Furthermore, it was proposed that a higher silicon content in the hair results in a lower rate of hair loss and improved brightness. Silicon is also one of the predominant minerals in nails composition.

A study on 22 patients found statistically significant changes in skin texture, firmness, and hydration after 90 days of supplementing with 600mg of OSA stabilized by hydrolysed collagen. In a study on photodamage (sunlight-caused damage) to the underlying connective tissue with a loss of elasticity and firmness of skin, 50 women were administered 10mg of OSA per day for 20 weeks. They found significant positive effect on skin surface and skin mechanical properties, and on brittleness of hair and nails. Another randomised study with 48 volunteers investigated the effect of OSA on thin hair. The subjects received 10mg of silicon per day, for a period of 9 months. Morphology and mechanical properties of hair were evaluated at the beginning and at the end of the study. Positive results were obtained in the evaluated hair properties, such as strand front section and resistance to breaking.
Skin Health Benefits of Zinc
Zinc is involved in several phases of cellular metabolism. It is required for the catalytic activity of approximately 100 enzymes and it plays a role in immune function, protein synthesis, wound healing, DNA synthesis, and cell division. Zinc also supports normal growth and development during pregnancy, childhood, and adolescence and is essential for an appropriate sense of taste and smell. A daily intake of zinc is required because the body is unable to store it. The recommended dietary allowance (RDA) for females is 8mg per day. The Tolerable Upper Intake Level is 40mg.

Zinc has many anti-aging effects, especially because it stimulates the immune and antioxidant defences against aging and age-related diseases. The anti-aging benefits of a zinc supplement also include: cell protection against oxidative stress, prevention against aging of the skin, prevention against UV-induced damage and reducing the incidence of cancer growths.

Zinc also has anti-inflammatory properties, which may help relieve some of the redness and irritation associated with moderate-to-severe acne. Furthermore; zinc may help reduce the appearance of acne scars. It has also been used for other inflammatory skin conditions, including melasma, rosacea, seborrheic dermatitis and eczema.
1. Aguirre A, Gil-Quintana E, Fenaux M, Erdozain S, Sarria I. Beneficial Effects of Oral Supplementation With Ovoderm on Human Skin Physiology: Two Pilot Studies.J Diet Suppl. 2017 Nov 2;14(6):706-714. doi: 10.1080/19390211.2017.1310781. Epub 2017 Apr 21. PMID: 28429999.

2. Araújo LA, Addor F, Campos PM. Use of silicon for skin and hair care: an approach of chemical forms available and efficacy. An Bras Dermatol. 2016 May-Jun;91(3):331-5. doi: 10.1590/abd1806-4841.20163986. PMID: 27438201; PMCID: PMC4938278.

3. Barel A, Calomme M, Timchenko A, De Paepe K, Demeester N, Rogiers V, Clarys P, Vanden Berghe D. Effect of oral intake of choline-stabilized orthosilicic acid on skin, nails and hair in women with photodamaged skin.Arch Dermatol Res. 2005 Oct;297(4):147-53. doi: 10.1007/s00403-005-0584-6. Epub 2005 Oct 26. Erratum in: Arch Dermatol Res. 2006 Apr;297(10):481. Dosage error in article text. Erratum in: Arch Dermatol Res. 2006 Feb;297(8):381. Paepe, K De [corrected to De Paepe, K]. PMID: 16205932.

4. Baxter RA. Anti-aging properties of resveratrol: review and report of a potent new antioxidant skin care formulation. J Cosmet Dermatol. 2008 Mar;7(1):2-7. doi: 10.1111/j.1473-2165.2008.00354.x. PMID: 18254804.

5. Farris P, Krutmann J, Li YH, McDaniel D, Krol Y. Resveratrol: a unique antioxidant offering a multi-mechanistic approach for treating aging skin. J Drugs Dermatol. 2013 Dec;12(12):1389-94. PMID: 24301240.

6. Fraser JR, Laurent TC, Laurent UB. Hyaluronan: its nature, distribution, functions and turnover. J Intern Med. 1997 Jul;242(1):27-33. doi: 10.1046/j.1365-2796.1997.00170.x. PMID: 9260563.

7. Ghanim H, Sia CL, Abuaysheh S, Korzeniewski K, Patnaik P, Marumganti A, Chaudhuri A, Dandona P. An antiinflammatory and reactive oxygen species suppressive effects of an extract of Polygonum cuspidatum containing resveratrol. J Clin Endocrinol Metab. 2010 Sep;95(9):E1-8. doi: 10.1210/jc.2010-0482. Epub 2010 Jun 9. PMID: 20534755; PMCID: PMC2936054.

8. Göllner I, Voss W, von Hehn U, Kammerer S. Ingestion of an Oral Hyaluronan Solution Improves Skin Hydration, Wrinkle Reduction, Elasticity, and Skin Roughness:Results of a Clinical Study. J Evid Based Complementary Altern Med. 2017 Oct;22(4):816-823. doi: 10.1177/2156587217743640. Epub 2017 Dec 4. PMID: 29228816; PMCID: PMC5871318.

9. Gupta M, Mahajan VK, Mehta KS, Chauhan PS. Zinc therapy in dermatology: a review. Dermatol Res Pract. 2014;2014:709152. doi: 10.1155/2014/709152. Epub 2014 Jul 10. PMID: 25120566; PMCID: PMC4120804.

10. Kawada C, Yoshida T, Yoshida H, Matsuoka R, Sakamoto W, Odanaka W, Sato T, Yamasaki T, Kanemitsu T, Masuda Y, Urushibata O. Ingested hyaluronan moisturizes dry skin.Nutr J. 2014 Jul 11;13:70. doi: 10.1186/1475-2891-13-70. PMID: 25014997; PMCID: PMC4110621.

11. Kim JH, Park EY, Ha HK, Jo CM, Lee WJ, Lee SS, Kim JW. Resveratrol-loaded Nanoparticles Induce Antioxidant Activity against Oxidative Stress. Asian-Australas J Anim Sci. 2016 Feb;29(2):288-98. doi: 10.5713/ajas.15.0774. PMID: 26732454; PMCID: PMC4698710.

12. Martin KR. The chemistry of silica and its potential health benefits. J Nutr Health Aging. 2007 Mar-Apr;11(2):94-7. PMID: 17435951.

13. National Institutes of Health Office of Dietary Supplements. Zinc Fact Sheet for Health Professionals. Updated July 15, 2020.

14. Oe M, Sakai S, Yoshida H, Okado N, Kaneda H, Masuda Y, Urushibata O. Oral hyaluronan relieves wrinkles: a double-blinded, placebo-controlled study over a 12-week period. Clin Cosmet Investig Dermatol. 2017 Jul 18;10:267-273. doi: 10.2147/CCID.S141845. PMID: 28761365; PMCID: PMC5522662.

15. Petersen Vitello Kalil CL, Campos V, Cignachi S, Favaro Izidoro J, Prieto Herman Reinehr C, Chaves C. Evaluation of cutaneous rejuvenation associated with the use of ortho-silicic acid stabilized by hydrolyzed marine collagen.J Cosmet Dermatol. 2018 Oct;17(5):814-820. doi: 10.1111/jocd.12430. Epub 2017 Sep 20. PMID: 28941141.

16. Ratz-Łyko A, Arct J. Resveratrol as an active ingredient for cosmetic and dermatological applications: a review. J Cosmet Laser Ther. 2019;21(2):84-90. doi: 10.1080/14764172.2018.1469767. Epub 2018 May 8. PMID: 29737899.

17. Schunck M, Zague V, Oesser S, Proksch E. Dietary Supplementation with Specific Collagen Peptides Has a Body Mass Index-Dependent Beneficial Effect on Cellulite Morphology. J Med Food. 2015 Dec;18(12):1340-8. doi: 10.1089/jmf.2015.0022. Epub 2015 Nov 12. PMID: 26561784; PMCID: PMC4685482.

18. Wen S, Zhang J, Yang B, Elias PM, Man MQ. Role of Resveratrol in Regulating Cutaneous Functions. Evid Based Complement Alternat Med. 2020 Apr 14;2020:2416837. doi: 10.1155/2020/2416837. PMID: 32382280; PMCID: PMC7180429.

19. Wessels I, Maywald M, Rink L. Zinc as a Gatekeeper of Immune Function. Nutrients. 2017 Nov 25;9(12):1286. doi: 10.3390/nu9121286. PMID: 29186856; PMCID: PMC5748737.




Made for Pack Flippers
You care about what goes into your food, and we do too. It's not just about great macros, it's also about clean ingredients your body will recognise as real food.

Belinda Kirkpatrick, Clinical Nutritionist and Naturopath
"I recommend Beauty Food cookies to my clients as a tasty and healthy snacking option that will fill them up! They're full of good fats and protein that really do beat the cravings."
Penny Benjamin, Nutritionist
"I'm always looking for super easy yet tasty and filling snack, drink and meal options to recommend my clients that are based on real food. Beauty Food snacks and drinks are tasty and easy."

"I don't usually promote anything pre-made, which is difficult for patients with busy lives. These cookies are the exception.They're the perfect balance between a nutritious snack and a delicious treat!"
Total 5 star reviews: 6
Total 4 star reviews: 0
Total 3 star reviews: 0
Total 2 star reviews: 0
Total 1 star reviews: 0
100%
would recommend this product
D.P.

Love it!

Can see the improvement in my skin and hair. Love the taste! Definitely recommend.

Marcela S.

Ms. Sanders

I used this product first time, however only 2 weeks, I noticed some little changes, such as; clearing my skin and relieve joint pain. When I can, I will buy it double.

Vicki H.

Lolli I.

So IMPRESSED

Honestly in a week I have seen a massive change using this product, especially in my skin. So happy and I HIGHLY recommend it. Thank you.

Veronika L.

The best one-stop-shop for hair, skin and nails.

I love that I don't have to take so many different supplements now that I have it all in one product. Literally everything that I would take for hair, skin, nails and antiaging.
Reviews Loaded
Reviews Added
Frequently asked questions
Collagen is an odourless, tasteless, dairy free protein source that's a co-product of beef. We like it because it's a great environmentally friendly option and easier on the gut than other proteins like whey. There's also a bunch of new research suggesting it's beneficial for gut health, joint and tendon health, recovery and hair, skin and nails.
Where does your collagen come from?
We use grass-fed and grass finished bovine hydrolysed collagen peptides from Argentina. We're working on Australia made collagen.
Is collagen environmentally friendly?
Yes! And more environmentally friendly than other protein sources such as whey, soy and pea.
Collagen is a co-product of animal agriculture which means if we weren't using it for a health food product it'd be going to landfill.
While grass-fed collagen isn't any better nutritionally speaking than grain-fed collagen, grass-fed is kinder to the planet.
Designed to be enjoyed by anyone 16 years and older.
It's not recommended for kids 15 years and under due to the caffeine.
Is it suitable for pregnancy and breastfeeding?
It's not recommended for pregnant or breastfeeding mums because of the caffeine.
Is it suitable for Diabetics?
We can't give you that advice so you need to speak with your dietitian but we have had feedback from dietitians that all our products are suitable for diabetics.
No, collagen comes from animal sources so collagen is not vegan. There are plant based "collagen" powders starting to appear which essentially mimic the same amino acid profile of natural collagen, but to date there's not a lot of research showing it's efficacy and the research that does exist suggests you'd need 6 times as much to get a similar effect.
There are also vegan "collagen" products out there that don't contain any collagen but claim to increase the body's own collagen production.
We do have many customers following a plant based diet who consume our products as a way to get important nutrients without eating meat. Think of collagen as an odourless, tasteless white powdered form of bone broth.
This product is good for up to 12 months. The date on the product is a best before date, not an expiry date, which means it's a question of taste after that date.