Live your Chief Life
Real food snacks and supplements. Take our quiz to find the best products for you.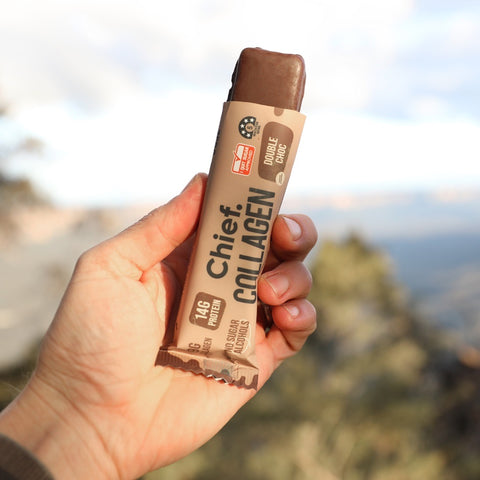 Collagen Protein Bars
Made from Nut Butter in 6 delicious flavours with and without dark chocolate.
Beef Bars and Biltong
Made from Organic, Grass-fed Beef in 2 flavours of beef bars and 4 flavours of biltong.
Real Food Supplements
Natural vitamins, minerals and amino acids from Organic Beef Liver and Collagen Protein.
Clean snacks, for you and the planet.
When you're time poor you make poor choices. If you had time to read all the small print on that 'healthy' snack you probably wouldn't feel too good about it. At Chief, we deeply care about what we put in and what you get out of it. We're uncompromising on taste, health and sustainably sourced ingredients.

Everything we do is free from artificial thickeners, fillers, preservatives, sweeteners and sugar alcohols.

No more choosing between clean ingredients and great macros, we have both. Our whole range is low sugar.

Our whole range is gluten free and soy free to avoid inflammation and promote gut health.
All our products are packed with nutrients to keep you healthy, nourished and satisfied for longer.
Thanks for supporting our farmers.
Every product you buy supports Thankful For Farmers, helping farmers be more economically and environmentally sustainable.
The snacks the experts choose

Dr Naras Lapsys, Dietitian
"Every day, more and more studies confirm that processed food and in particular, processed carbohydrates, are just not good for us. Chief Bars really tick all the boxes."
Jessica Turton, Dietitian
"Chief bars give me the proteins, nutrients, and energy that I need - while saving me time! I love that these 'protein bars' are made from real food, and the added bonus is that they taste delicious."
Cliff Harvey, Nutritionist, Keto Researcher
"One of my 'go-tos' for a ketogenic diet. They're convenient, they include collagen (which is great for my beaten up ol' joints!), and MCTs to help you get into and sustain ketosis."
Penny Benjamin, Nutritionist
"I'm always looking for super easy yet tasty and filling snack and meal options to recommend my clients that are based on real food. Chief Bars deliver on all accounts."
We're in this for you
We're passionate about two things, healthy people and a healthy planet.
Life's too short to wait ages for your goodies to arrive. We ship fast so you get it fast.
If you're in Sydney you can pick up from our warehouse Mon to Fri 9am to 5pm.
Don't love what you ordered? Contact us for a free replacement or refund.

Family and employee owned by people who care about great service.