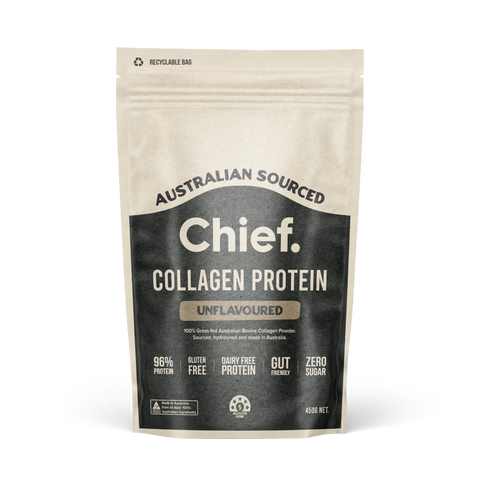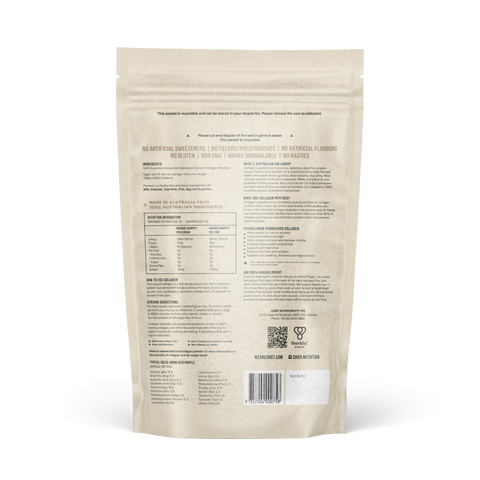 Grass-fed Collagen Protein Powder - Unflavoured (30 serves)
Checking local availability
100% Australian Grass-fed Hydrolysed Bovine Collagen Peptides Type I and III with an average molecular weight <1kDa (highly bioavailable).
Collagen peptides are a completely hydrolysed form of collagen protein, which means the amino acid strands of the protein are broken into individual collagen peptides making them easy to digest and highly bioavailable. Studies have shown more than 90% of collagen peptides are digested and available in the bloodstream within one hour.
Most collagen powder comes from overseas. While some brands use Australian bovine sources, they ship raw ingredients to the US to be hydrolysed then ship it all the way back to Australia. Our collagen is 100% Australian grown, hydrolysed and made. 
How it's different
Grass-fed Bovine Collagen
Australian grown, hydrolysed and made
96% highly bioavailable protein
Dairy free
Gut friendly
Zero sugar
5 Star Health Rated!
How to use it
Hydrolysed collagen is a fast dissolving powder that is a fantastic protein supplement for tissue building and repair, muscle mass growth and maintenance, and bone
maintenance. It's suitable for people of all ages.

Serving Suggestions
For best results, consume 1 serve (15g) per day. To reduce plastic we don't use a scoop so simply mix 2 heaped tablespoons (15g) in 300ml of cold water and mix with a spoon, shaker or blender. Do not consume if left longer than 4 hours. Also great to add protein to your smoothies, coffee, tea, pancakes, baking and more.
What's inside?
450g bag of Unflavoured Collagen Protein (30 serves)
Nutrition Information
Energy, 245 kJ / 59 Cal
Protein, 14.4g
Gluten, Nil detected
Fat, 0g
- - Saturated Fat, 0g
Carbohydrate, 0g
- - Sugars, 0g
Sodium, 30mg

Amino Acid Profile Per 100g
Alanine (Ala), 9.2g
Arginine (Arg), 8.3g
Aspartic acid (Asp), 6.2g
Glutamic acid (Glu), 11.3g
Glycine (Gly), 18.0g
Histidine (His), 0.8g
Hydroxylysine (Hylys), 1.0g
Hydroxyproline (Hypro), 12.2g
Isoleucine (Ile), 1.6g
Leucine (Leu), 3.1g
Lysine (Lys), 4.0g
Methionine (Met), 0.6g
Phenylalanine (Phe), 2.1g
Proline (Pro), 13.8g
Serine (Ser), 2.9g
Threonine (Thr), 1.9g
Tyrosine (Tyr), 0.4g
Valine (Val), 2.6g
Ingredients: 100% Australian Grass-fed Hydrolysed Bovine Collagen Peptides. Type I and III with an average molecular weight <1kDa

Packed in a facility that processes ingredients with tree nuts, peanuts, fish, sesame, egg, soy and milk.
Why Collagen Protein?
Collagen is an odourless, tasteless, dairy free protein source. It's a great environmentally friendly option and easier on the gut than other proteins like whey. There's also a bunch of new research suggesting it's particularly beneficial for gut health, joint and tendon health, recovery and hair, skin and nails. This is because it contains a unique combination of 18 amino acids, including Glycine, Hydroxyproline and Proline which account for nearly half of collagen's amino acid content.
High in protein from hydrolysed Collagen Peptides.
Easier on the gut than other proteins, like whey

No sugar, artificial sweeteners or sugar alcohols.

No artificial thickeners, fillers, or emulsifiers.

Studies show hydrolysed collagen decreases joint pain after exercise and increases the density of cartilage, making joints more flexible.

Collagen contains large amounts of the amino acids glycine, glutamine and proline which can be beneficial to the intestinal tract and stomach.

Add protein to your smoothies, coffee, tea, pancakes, baking and more to fill you up fast.

Once you're done you can remove the seal and dispose of the bag in your paper recycling bin.
High in Alanine
Alanine enhances performance by increasing exercise capacity and decreasing muscle fatigue. It also has antioxidant, immune-enhancing and anti-aging properties.
High in Arginine
Arginine supports heart health, reduces blood pressure, lowers blood sugar, and supports athletic performance, among other benefits.
High in Glutamic Acid
In the body, Glutamic Acid turns into glutamate. This is a chemical that helps nerve cells in the brain send and receive information from other cells. It may be involved in learning and memory. It may help people with hypochlorhydria (low stomach acid) or achlorhydria (no stomach acid).
High in Glycine
Glycine is an amino acid that helps build proteins needed for tissue and hormone maintenance. More glycine may help support heart and liver health, improve sleep, reduce diabetes risk, and reduce muscle loss.
High in Hydroxyproline
Hydroxyproline enhances Growth Performance and Collagen Synthesis.
High in Proline
Proline plays important roles in protein synthesis and structure, metabolism, and nutrition, as well as wound healing, antioxidative reactions, and immune responses.
Made for Pack Flippers
You care about what goes into your food, and we do too. It's not just about great macros, it's also about well sourced, clean ingredients.
Total 5 star reviews: 6
Total 4 star reviews: 0
Total 3 star reviews: 0
Total 2 star reviews: 0
Total 1 star reviews: 0
100%
would recommend this product
Customer-uploaded media carousel. Press left and right arrows to navigate. Press space or enter to open more details.
Slide 1 selected
Love it!

This is a great protein powder, sits far better in my stomach than other proteins I've tried and dissolves very easily with no taste. I'm using it to add protein to my smoothies and morning coffee! Highly recommend

Great collagen

Quality product - great in my coffee 👍🏽

Grass fed Collagen Protein powder-unflavored

Very happy with this product. Easy to use, flavor it as you desire. Will purchase again.

Kudos!

The collagen works a charm. Most importantly, it is Australian collagen, not an import.

The real deal when it comes to healthy products

Got one for my mum and sister too!
Reviews Loaded
Reviews Added
Frequently asked questions
It's unflavoured and tasteless. You won't notice it in your smoothies, tea, coffee, baking, etc
Collagen is an odourless, tasteless, dairy free protein source that's a co-product of beef. We like it because it's a great environmentally friendly option and easier on the gut than other proteins like whey. Besides being a great protein source, there's also a bunch of new research suggesting it's beneficial for gut health, joint and tendon health, recovery and hair, skin and nails.
Where does your collagen come from?
We use 100% Australian grass-fed bovine hydrolysed collagen peptides. Grown, hydrolysed and packed in Australia.
Is collagen environmentally friendly?
Yes! And more environmentally friendly than other protein sources such as whey, soy and pea.
Collagen is a co-product of animal agriculture which means if we weren't using it for a health food product it'd be going to landfill.
While grass-fed collagen isn't any better nutritionally speaking than grain-fed collagen, grass-fed is kinder to the planet.
Who is this designed for?
Collagen Powder is a clean protein source that can be enjoyed daily by anyone. It's also great pre or post workout.
Yes! It's an essential nutrient. Collagen is also the most abundant protein in the body, so keeping up a healthy stock of collagen is important for us all, including kids who are growing fast.
Is it suitable for pregnancy and breastfeeding?
We're not allowed to give advice and you should always check with your doctor or health professional.
There is nothing in our products that we feel you would need to worry about. In fact, collagen is a fantastic supplement for mums who are growing human beings.
Is it keto, paleo and carnivore friendly?
Yes!
Did you know low FODMAP is a short-term solution and not designed to be followed for months at a time? Read more about FODMAP
Is it suitable for Diabetics?
We can't give you that advice so you need to speak with your dietitian but we have had feedback from dietitians that all our products are suitable for diabetics.
No, collagen comes from animal sources so collagen is not vegan. There are plant based "collagen" powders starting to appear which essentially mimic the same amino acid profile of natural collagen, but to date there's not a lot of research showing it's efficacy and the research that does exist suggests you'd need 6 times as much to get a similar effect.
There are also vegan "collagen" products out there that don't contain any collagen but claim to increase the body's own collagen production.
We do have many customers following a plant based diet who consume our products as a way to get important nutrients without eating meat. Think of collagen as an odourless, tasteless white powdered form of bone broth.
This collagen powder is certified Halal. It's not yet certified Kosher.
What's the shelf life of your collagen powder?
This collagen powder will last on the shelf for up to 24 months. The date on the product is a best before date, not an expiry date, which means it's a question of taste after that date.