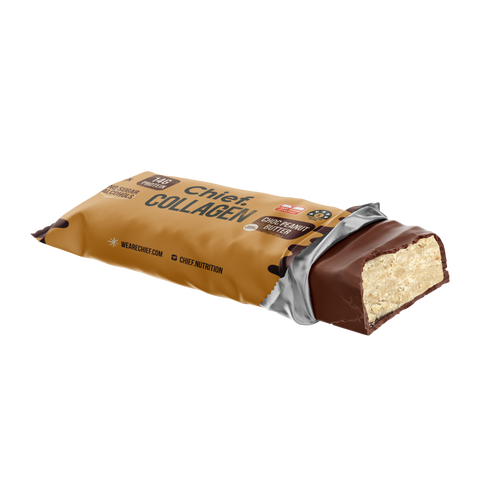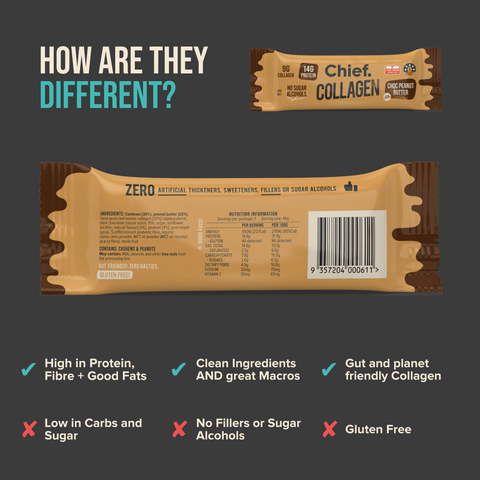 Collagen Protein Choc Peanut Butter Bar (12 bars)
"So glad you added chocolate to the range of collagen bars"
- Michelle S.
Checking local availability
Take your taste buds on a wild ride, the ultimate fusion of indulgence and nutrition, with our new chocolate covered Collagen Protein Bars. Beneath the heavenly dark chocolate lies a delectable core of biscuity, Peanut Butter. But this bar is more than just an enticing delight for your taste buds. It's still a powerhouse of protein, healthy fats and fibre, meticulously crafted to fuel your #ChiefLife and vanquish your hunger.
It's easy to find bars with great macros, or with clean ingredients, but it's hard to find both. We've done it with these bars, incredible macros AND clean ingredients!
How they're different
High in dairy free protein and healthy fats to keep you full for longer
High in fibre for gut health
No added sugar, artificial sweeteners or sugar alcohols
No artificial thickeners and fillers
No dried fruit means they're low sugar
Get friendly, no bloating or gas
Keto and Paleo friendly
5 Star Health Rated!
How to use them
A clean treat that'll beat sugar cravings and get you through to meal time.
Use as a protein source for your smoothies (blends well!)
Crumble on top of your breakfast (e.g. yoghurt, oats, etc)
Can be kept in your glovebox (heat resistant - does not apply to chocolate covered flavours)
Will last up to 14 months without refrigeration. Keep in the fridge or freezer for longer storage.
Great pre or post workout.
Great to have with the beef bars for a more complete meal.
Kids love them too!
What's in the box?
12 Bars of Peanut Butter Collagen Protein Bars (45g)
Nutrition Information
Energy, 950 kJ / 227 Cal
Protein, 14.4g
Gluten, Nil detected
Fat, 14.9g
- - Saturated Fat, 2.7g
Carbohydrate, 7.0g
- - Sugars, 3.0g
Sodium, 32mg
Dietary Fibre, 4.5g
Vitamin C, 30mg

Ingredients: Cashews [35%], peanut butter [22%], halal grass-fed bovine collagen [20%], tapioca starch, dark chocolate (cocoa solids 70%, sugar, sunflower lecithin, natural flavour) [4%], peanuts [4%], pure maple syrup, S.officinarum prebiotic fibre, organic camu camu powder, MCT oil powder (MCT oil coconut, acacia fibre), monk fruit.
Please note: Sunflower Lecithin is NOT a seed oil and not to be confused with sunflower oil or soy lecithin which are both harmful. Sunflower Lecithin is made by dehydrating sunflower seeds and separating them into three parts; solid, oil, and gum in a cold press system similar to making extra virgin olive oil. The gum part of it is lecithin and is used as a supplement.
"These are hands down the best health bar I've ever had."
Chocolate + Peanut Butter? Say no more.
Heavenly dark chocolate enrobing a delectable core of biscuity, chocolatey Peanut Butter.
High in protein from hydrolysed Collagen Peptides and Nuts.

Helps regulate the body's use of sugars, helping to keep hunger and blood sugar in check.

We've ditched the dried fruit to keep carbs and sugar at healthy levels.

No artificial thickeners, fillers, sweeteners or sugar alcohols. 

Studies show hydrolysed collagen decreases joint pain after exercise and increases the density of cartilage, making joints more flexible.

Packed with protein and good fats that'll fill you up naturally and not leave you craving more food.

Collagen contains large amounts of the amino acids glycine, glutamine and proline which can be beneficial to the intestinal tract and stomach.
Designed in consultation with keto experts to ensure they're keto friendly.
Why Collagen Protein?
Collagen is an odourless, tasteless, dairy free protein source. You'll love it because it's a great environmentally friendly option and easier on the gut than other proteins like whey. There's also a bunch of new research suggesting it's beneficial for gut health, joint and tendon health, recovery and hair, skin and nails.
Made for Pack Flippers
Most snack bars are candy bars, full of syrups, fillers, emulsifiers, sweeteners and sugar alcohols. You care about what goes into your food, and we do too. It's not just about great macros, it's also about clean ingredients your body will recognise as real food.

Dr Naras Lapsys, Dietitian
"Every day, more and more studies confirm that processed food and in particular, processed carbohydrates, are just not good for us. Chief really tick all the boxes."
Jessica Turton, Dietitian
"Chief Bars give me the proteins, nutrients, and energy that I need - while saving me time! I love that these 'protein bars' are made from real food, and the added bonus is that they taste delicious."
Cliff Harvey, Nutritionist, Keto Researcher
"One of my 'go-tos' for a ketogenic diet. They're convenient, they include collagen (which is great for my beaten up ol' joints!), and MCTs to help you get into and sustain ketosis."
Penny Benjamin, Nutritionist
"I'm always looking for super easy yet tasty and filling snack and meal options to recommend my clients that are based on real food. Chief delivers on all accounts."
Total 5 star reviews: 13
Total 4 star reviews: 1
Total 3 star reviews: 0
Total 2 star reviews: 0
Total 1 star reviews: 0
100%
would recommend this product
Customer-uploaded media carousel. Press left and right arrows to navigate. Press space or enter to open more details.
Slide 1 selected
Yum!

Great tasting protein bars. Love all the Chief bars. Best on the market. Our house is never without at least two different flavours.

Great combo

I love cruahing this in my oats. Adds more flavour and great combo. 👍

Our new favourite!

These are absolutely delicious with the chocolate covering and still so healthy! The kids love them too, the box I bought on Tues is almost gone already 😂

Choc peanut butter bars

Great taste just a shame it has less protein and collagen than the other flavours
Reviews Loaded
Reviews Added
Frequently asked questions
What do your collagen bars taste like?
The best way to describe the taste would be like a nut butter biscuit. They're sweet but they're very low in sugar because we use a natural sweetener (monk fruit). We avoid stevia because it can have a lingering aftertaste.
Collagen is an odourless, tasteless, dairy free protein source that's a co-product of beef. We like it because it's a great environmentally friendly option and easier on the gut than other proteins like whey. There's also a bunch of new research suggesting it's beneficial for gut health, joint and tendon health, recovery and hair, skin and nails.
Where does your collagen come from?
We use grass-fed and grass finished bovine hydrolysed collagen peptides from Argentina. We're working on Australia made collagen.
Is collagen environmentally friendly?
Yes! And more environmentally friendly than other protein sources such as whey, soy and pea.
Collagen is a co-product of animal agriculture which means if we weren't using it for a health food product it'd be going to landfill.
While grass-fed collagen isn't any better nutritionally speaking than grain-fed collagen, grass-fed is kinder to the planet.
Who are they designed for?
Chief Collagen bars are an very healthy and natural snack that can be enjoyed daily by anyone. They're also great pre or post workout.
Are they suitable for kids?
Yes! Our kids love them and our whole range is perfect for kids. They are quite filling though so half a bar will probably be more than enough for the younger ones. Please note they do contain nuts.
Are they suitable for pregnancy and breastfeeding?
We're not allowed to give advice and you should always check with your doctor or health professional.
There is nothing in our products that you would need to worry about. Some doctors might flag the camu camu which is a berry - the reason for this is it's high in Vitamin C and you can have too much Vitamin C, hence the general advice on camu camu. We don't use a lot, there's 0.24g in each bar which is about 7mg of Vitamin C and the recommended daily intake of Vitamin C is 75mg for women.

In our view, all our products are very safe and from personal experience we've found them to be great for pregnancy and breast feeding. In fact, collagen is a fantastic supplement for mums who are growing human beings.
Yes! We don't market them as a "keto" product because strict ketosis followers might have an issue with the small amount of maple syrup in them (which is negligible, contributing <0.5g of sugar per bar) but we have designed the bars in consultation with nutritionists and keto experts who have confirmed they very much qualify as, and are recommended by those experts as, keto friendly.
Are they FODMAP friendly?
Our collagen bars contain cashews which are not considered Low FODMAP.
Did you know low FODMAP is a short-term solution and not designed to be followed for months at a time? Read more about FODMAP
Are they suitable for Diabetics?
We can't give you that advice so you need to speak with your dietitian but we have had feedback from dietitians that all our products are suitable for diabetics.
No, collagen comes from animal sources so collagen is not vegan. There are plant based "collagen" powders starting to appear which essentially mimic the same amino acid profile of natural collagen, but to date there's not a lot of research showing it's efficacy and the research that does exist suggests you'd need 6 times as much to get a similar effect.
There are also vegan "collagen" products out there that don't contain any collagen but claim to increase the body's own collagen production.
We do have many customers following a plant based diet who consume our products as a way to get important nutrients without eating meat. Think of collagen as an odourless, tasteless white powdered form of bone broth.
Are they Kosher or Halal?
Our collagen range is Halal certified (we export to the Middle East). They're not Kosher, yet.
What's the shelf life of your collagen bars?
The collagen bars will last on the shelf for at least 12 months. The date on the product is a best before date, not an expiry date, which means it's a question of taste after that date.